Interesting for your company?
Raising personal awareness about stress as part of the corporate health strategy is just one example of how a smartwatch-based study can be of interest to companies. Alternatively, the aggregated data can be an interesting element when evaluating home working policies, especially with the current perspective of long-lasting home working. Evaluating stress during home-based working, in the current setting where we all long for a day back at the office might reveal interesting and unexpected
results. Other interesting angles for smartwatch-based studies could be the promotion of physical activity and health amongst your team to reduce sick leave. Setting up a small study can be done easily. For the Modis study, the time from the initial contact to the start of the measurements was just three weeks.  This is possible because:
XAOP has integrated the Health API into its health services, which enables us to receive the data measured by a participant's Garmin smartwatch once their Garmin Connect account is linked to our health services. This can be done by the participant in a streamlined process that involves just a few clicks.
XAOP has the infrastructure available to collect metadata that enrich the smartwatch data using either email-based questionnaires or a chatbot. The ability to provide feedback to the participants based on the collected data is also present.
The collection of metadata and the feedback are configurable and can be defined together based on the goals of your study. As such we can deliver customized reports, both at the level of the individual and at the level of the aggregated data.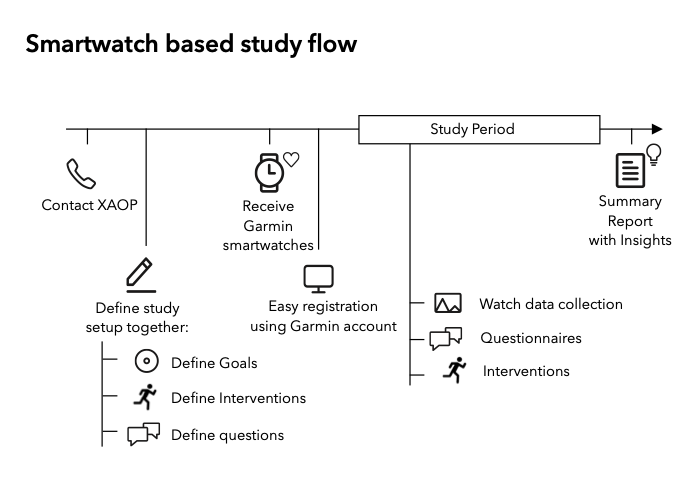 Are you interested in setting up a smartwatch-based study for your company? Contact us on info@xaop.com . Another interesting read about stress and how to recognize it can be found here